Casey Dorman is the author of fiction, non-fiction and sociopolitical and philosophical essays. He has published more than ten novels. His latest works are shown here. Look up his other fiction and nonfiction using the navigation bar at the top of the page.
Now Available from Black Rose Writing!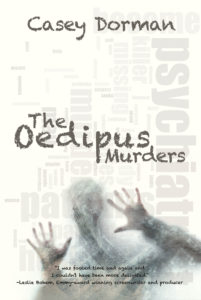 The Oedipus Murders
From Black Rose Writing
A new psychological mystery by Casey Dorman
An intricate exploration of the minds of two men: the husband of a missing woman and his psychoanalyst, both of whom share similar neurotic complexes. As the analyst unravels his client's repression and denial about his actions toward his wife, the analyst must also struggle with his own amnesiac episodes, which increasingly lead him to suspect that he may have played a role in the woman's murder. The Oedipus Murders is a complex psychological mystery, which takes place in the wealthy California coastal community of Newport Beach.
"A jaw-dropping work of contemporary California noir. Fans of James Ellroy will fall hard for Casey Dorman. An extremely satisfying novel that ratchets up the tension with each succeeding chapter, ending in a satisfying twist that few will see coming."
Best Thrillers
"The Oedipus Murders is a gripping murder mystery and a fascinating journey through the tricks and tribulations of the head, intelligent, illuminating, and immensely entertaining."
Panayotis Cacoyannis, award-winning author of "The Madness of Grief."
"Just when the reader thinks he knows what is coming next, just as all captivating, suspenseful "Oedipus Murders" must do, the plot, filled with surprise, shifts again. All is great fun. The novel would make a great film."
Darryl Freeland, Ph.D., Former Psychology Professor, Alliant International University
Go to Casey Dorman's The Oedipus Murders page on Reedsy!
Order your paperback or Kindle copy of The Oedipus Murders on Amazon.!
Thanks for all of my fans and friends for coming to Mystery Ink Bookstore for the launch of The Oedipus Murders in September of 2019!
Come to hear me speak after the first of the year:
Lit Up! Date and Time to be determined.
Foothill Ranch Public Library, February (date and time to be determined)
Come to hear me speak after the first of the year:
Lit Up! Date and Time to be determined.
Foothill Ranch Public Library, February (date and time to be determined)