Coming in November, 2023!
Brace yourself for an electrifying saga of moral quandaries, superhuman species, and interstellar battles that will ignite your imagination!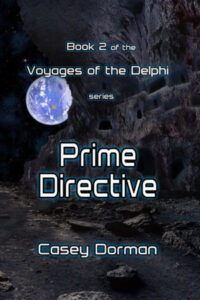 Ezekiel, an android whose brain was copied from a human, has emotions and a sense of humor that make him unique among the AI crew members of the starship, Delphi. His fellow AIs are strictly logical and follow rigid rules that prevent them using their extraordinary powers to interfere with or harm other races. Those rules are tested on Trappist-1, a star system shackled by oppression and injustice. The Delphi's newest crew member, a compassionate human empath, urges them to violate their rules and aid the oppressed population. Ezekiel agonizes over the dilemma. When a fleet of predatory aliens arrives to plunder the planets' resources, he and the crew must choose—stay and fight or follow their Prime Directive and leave.
"A deep exploration of the relationship between human and artificial intelligence."
            Elizabeth Conte, award-winning author of Finding Jane
"Wonderfully satisfying and artfully cagey. The AI novel for our time!"
            Michael Hartnett, best-selling author of The Blue Rat and Death Canal
Watch a Podcast with Tim Elsom interviewing Casey Dorman on Eye4AI