Brace yourself for an electrifying saga of moral quandaries, superhuman species, and interstellar battles that will ignite your imagination!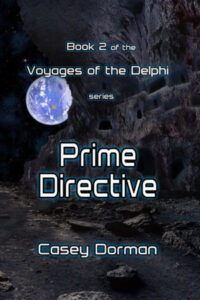 A stand-alone sci-fi thriller that continues the interstellar voyages of the most unusual starship crew you've ever encountered. 
Ezekiel, an android whose brain was copied from a human, has emotions and a sense of humor that make him unique among the AI crew members of the starship, Delphi. His fellow AIs are strictly logical and follow rigid rules that prevent them using their extraordinary powers to interfere with or harm other races. Those rules are tested on Trappist-1, a star system shackled by oppression and injustice. The Delphi's newest crew member, a compassionate human empath, urges them to violate their rules and aid the oppressed population. Ezekiel agonizes over the dilemma. When a fleet of predatory aliens arrives to plunder the planets' resources, he and the crew must choose—stay and fight or follow their Prime Directive and leave.  Click Here!
Read the reviews for Prime Directive.
"Both intellectually stimulating and completely absorbing, Prime Directive wrestles with the future of AI within the context of a wildly entertaining adventure."       Best Thrillers
"If you love adventures, Prime Directive is the one for you because of its grand narrative. I rate it five out of five stars!"                 Online Book Club
"Loved it! A familiar saga with space travel AND a prime directive mandate AND intense drama gets upgraded with artificial intelligence and philosophy." Reedsy Discovery
"A deep exploration of the relationship between human and artificial intelligence."   Elizabeth Conte, award-winning author of Finding Jane
"Wonderfully satisfying and artfully cagey. The AI novel for our time!"    Michael Hartnett, best-selling author of The Blue Rat and Death Canal
Watch a Podcast with Tim Elsom interviewing Casey Dorman on Eye4AI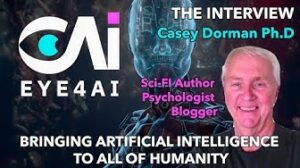 Haven't read Ezekiel's Brain? A ground-breaking sci-fi novel that witnesses the origin of Ezekiel and the Solarian race of AIs. Get it on Amazon.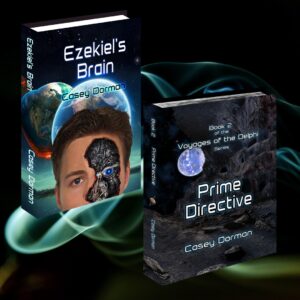 Subscribe to Casey Dorman's Newsletter. Click HERE