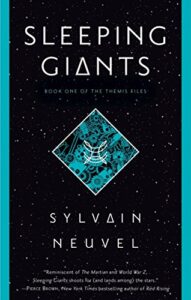 Sleeping Giants by Sylvain Neuvel

Del Rey Books, 2016
I bought this book based on an ad and its New York Times bestseller designation, as well as the fact that it dealt with earth confronting an alien race. It sounded like a thriller, and, believe me, it is. Everything is bold about this book. The concept is bold, the characters are bold, and, what most impressed me, the writing is bold. Sleeping Giants breaks all the rules. There is no narrator, no main character (the closest we come to one is an unnamed interviewer) and no scenes. The entire novel consists of interviews, interspersed with a couple of diary entries.
Despite the book's format, there is a definite plot, a gigantic (literally) mystery, and memorable characters. It's not exactly hard science fiction, but there are some technical details, and, more than the technical science, the politics and international relations are insightful. And it's definitely science fiction.
Over a period of decades, parts of a giant human body are unearthed in various regions around the world. When they emerge from deep in the earth, they destroy whatever is on the ground above them, be it a small town or a section of the desert. Gradually, they are assembled, and it becomes clear that it is a female body, a warrior, that is, in fact, a mobile weapon that can be driven by two humans seated inside.
The story follows the scientists that are in charge of studying the giant figure and the "pilots" who will run it, as they discover how to operate the machine. Meanwhile, a mysterious interviewer, who is more or less in charge of the project talks to politicians, presidents, the pilots, the scientists and the armed services people involved with finding and storing the parts of the giant's body. The fate of the massive figure is the subject of international intrigue and incidents, but its original purpose and its creators remain a mystery until it is revealed to the interviewer as a folk story told by an old man. From that point on, the interviewer knows, and must convince others, that learning everything there is to learn about the giant female warrior and, most importantly, how to use its powers to defend earth, is of utmost importance.
Sleeping Giants is, I believe the author's first book and it is the first in a series. I haven't read the next two books or any others by Sylvain Neuvel (he's written several), although I certainly will. I was very impressed and found the book one that truly is hard to put down. As a science fiction writer, myself, I applaud the author for his groundbreaking effort. It's a great success.
Can an AI be superintelligent, and if so, should we fear it? Read Casey Dorman's novel, Ezekiel's Brain on Amazon. Available in paperback and Kindle editions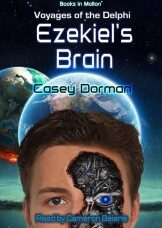 Rather listen than read? Download the audio version of Ezekiel's Brain from Audible.
Subscribe to Casey Dorman's Newsletter. Click HERE