Get Casey Dorman's most popular mystery/thriller, The Oedipus Murders FREE!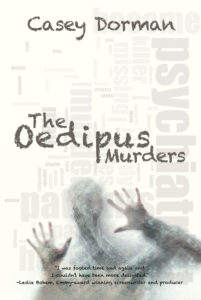 For a limited time, Black Rose Writing the publisher of the best-selling The Oedipus Murders, is offering a digital version (ePub, mobi for kindle, PDF, ePub for Kobo) FREE! through Book Funnel. Read an exciting psychological thriller, which has 88 positive reviews (average 4.1 rating) on Amazon, about a psychiatrist whose effort to solve the mysterious disappearance of his client's wife leads to himself as a suspect.
"A jaw-dropping work of contemporary California noir. Fans of James Ellroy will fall hard for Casey Dorman." –Best Thrillers
 "The originality of the story is unparalleled… consistently intrigues, excites, and surprises." —Turning Another Page
"Dorman is a master of the satisfying twist.  As someone who does this for a living, I'm supposed to be pretty good at "seeing it coming."  And I did not. I was fooled time and again as the twists and turns came at me.  And I couldn't have been more delighted." —Leslie Bohem, Emmy-award winning screenwriter and producer
 To get your FREE copy of The Oedipus Murders, click on the link below, then scroll down to The Oedipus Murders and click on the book cover.
 https://books.bookfunnel.com/endofsummerbookblowout/4unb3riu11