Azimuths by R.A. Morean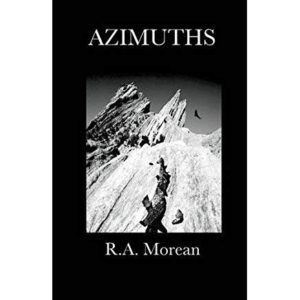 2015
Hardbound, Paperback, Kindle Editions
Lyrical and full of grit exactly as it needs to be..." -- Lee Martin, Pulitzer Prize fiction nominee
A story of emotional and physical paralysis, Azimuths unfolds as voices converge. Each character remains on a singular trajectory, yet all are connected as they try to figure out who and why to love and how to move forward with their lives. 
Raceway Trailer Park sits on the lip of the Mojave. What sifts under the sand are mysteries--a  fossilized whale, a particle accelerator, and calculated dreams of escape. Above live five unique women: Hattie, who tries to find her dead mother's face in her own; Kinni, the veiled survivor of Nagasaki; Melody, the orphan who nurses wayward children;  Lani, who uses a camera to create distances; and Oxena, who can't decide if she loves or hates her husband of forty years. And the men struggle with the bloodstain of history.
R. A. Morean's Azimuths features five women who live in a trailer park on the edge of the Mojave Desert, where there are no seasons. The possibility of change, though, is something this unforgettable cast of characters longs for and fears. The writing is spot on lyrical and full of grit exactly when it needs to be. This is a novel that will stay with you long after the final page. --Lee Martin, author of The Bright Forever, finalist for the Pulitzer Prize
In the Raceway Trailer Park, Morean has created an indelible American place the kind of place where people of differing backgrounds come together to make a community of choice. A good novel is a self-contained world, full of rich individuals rooted in the American Landscape. Azimuths is just that. --Kevin Haworth, author of The Discontinuity of Small Things, Dayton Literary Peace Prize nominee
About the Author
R. A. Morean is a novelist, short story writer, essayist and screenwriter. Her work has appeared in Salon, The Lost Coast Review, Sundial Press, The Tishman Review, Ploughshares, Kalliope, and more, and her novels are with St. Martin s Press, Escape Publishing, Roundfire Books, and Breese Books. She writes a mystery series under the name Abbey Pen Baker about the daughter of Sherlock Holmes. She has appeared on radio and television and is president of the Antioch Writers Workshop. A professor at Sinclair College, she also teaches creative writing workshops throughout Ohio s Miami Valley, focusing on short fiction, the novel, YA novels and screenplays.