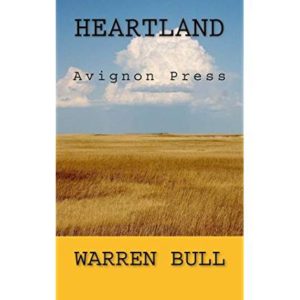 Paperback and Kindle Editions
Sixteen-year-old TOM ALLEN's life is imploding. His father banished Tom from his life; Tom's stepfather is entirely too interested in commenting on Tom's behavior. What makes it worse is that his stepfather's comments are usually right on target. Then Tom's beloved grandma suffers a stroke, which leaves his mother emotionally distant. Meanwhile his older sister is too sophisticated to worry about his concerns. When Tom reads an old family memoir from his grandma's cedar chest he becomes intrigued by his ancestors' accounts of their struggle to form one unified family from two shattered families. They face man-made and natural dangers while they battle to survive smoldering conflicts in "Bleeding Kansas" that will soon erupt into the bloodiest war in American history — the Civil War. With the help of family and friends, past and present, Tom gradually comes to terms with the pain and possibilities of his own family. HEARTLAND was a finalist in the 2010 Young Adult Novel Discovery Contest sponsored by the Gotham Writers Workshop.
Author Background
Warren Bull is the award-winning author of the novels ABRAHAM LINCOLN FOR THE DEFENSE, HEARTLAND and DEATH IN THE MOONLIGHT and the short story collections MURDER MANHATTAN STYLE, KILLER EULOGY AND OTHER STORIES and NO HAPPY ENDINGS. He is a life-time professional member of Sisters in Crime (with no hope of parole) and an active member of Mystery Writers of America, He has published in STRANGE MYSTERIES anthologies (1 through 7) from Whorlteberry Press, BLACK COFFEE, DESTINATION MURDER and WE'VE BEEN TRUMPED anthologies for Dark House Books, Great Mystery and Suspense magazine, Futures Mystery Anthology Magazine, Crimeandsuspence.com, Mouth Full of Bullets, The Back Alley, Sniplits.com Untreed Reads, Mysterical-E and a number of anthologies from Dark House Press. He was a psychologist in his "day job" for thirty years. Warren is a fierce competitor at trivia games. He claims he comes from a functional family.