2020 A "What if" thriller in which a reporter risks his life to prove that a supposed terror attack was actually carried out by the government.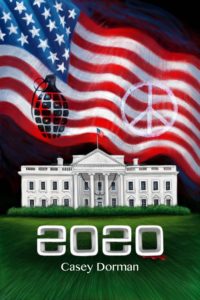 Now Available in Paperback and Kindle editions on Amazon
An only slightly alternate reality in which an autocratic American president stages a false terrorist attack in order to get himself reelected. Writer Lucas Evangelista learns that the attack is false and sets out on a quest to find witnesses so that he can expose the president's actions. As he visits various dissident groups, who are sheltering more witnesses, he becomes the target of assassination by the government, as are each of his witnesses. The various dissident groups range from revolutionary Marxists to nonviolent ecological pacifists, to White supremacist militias, each harboring witnesses to the false terror attack and each with its own plan to oppose the president. A fast-paced, edge-of-your-seat thriller, which examines political philosophies and the type of resistance that is both moral and effective in the face of an authoritarian government. Highly relevant to our times!
"2020 scares me. It's so utterly credible, so damn possible, that it sent me running for cover—only to find that there is no cover. Don't say Casey Dorman didn't warn us." Leslie Bohem, Emmy Award Winning Screenwriter and Producer.
"Casey Dorman's 2020 is both terrifyingly relevant and downright plausible in our terrible, Trumped-up times. It's also a genuine thriller, with Rashomon-like twists and surprisingly (perhaps) fun to read." David P. Barash, professor emeritus of psychology, University of Washington, National Book Award nominee, author of the forthcoming, "Through a Glass Brightly:using science to understand our species."