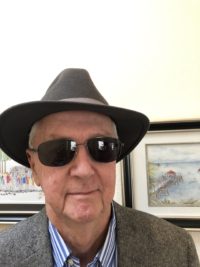 Welcome to my writer's blog. The purpose of my blog is to keep all of my fans apprised of what I'm doing, e.g. my latest novels, books or stories I'm working on, books or films I've reviewed, and observations about writing—and even a little philosophy (remember, I publish philosophical works as well as fiction).
In terms of my own writing, my new psychological mystery, The Oedipus Murders, came out in early September of this year and is sellling pretty well on Amazon, especially as a Kindle book. I had a standing-room-only book signing at Mystery Ink in Huntington Beach, CA on September 29. Thank you to all the friends, relatives, former students and fans who attended and to all of you who couldn't make it but sent your best wishes.
I've had my science fiction novel, Ezekiel's Brain accepted by NewLink Publishing in Henderson, Nevada. It won't be out for at least a year. It's very philosophical and is as hard-science as I could make it, given my knowledge. It is about a rogue artificial intelligence that wipes out the human race and the AI that is a copy of a human brain which is revived 200 years later to try to give the new AI civilization emotions. It also involves faster-than-light travel and parallel universes. It's the first in a series. I'll keep you posted as it nears publication and also on my progress as I test out ideas for a sequel.
I'm searching for space exploration or AI sci-fi novels to expand my background for my sequel to Ezekiel's Brain. Anyone who knows of some good novels in these areas, let me know so I can read them.
I acquired the rights to my 2003 novel, Pink Carnation back from the publisher and issued a second edition, which is the same novel, but self-published. I always thought it was one of my best, and it involves the mysterious death of the head of Orange Country's most powerful family back in the 1950's. You might like it.
Some of my older novels seem to be selling well as new readers, attracted by The Oedipus Murders, start looking at other books I've written. Finding Martin Bloom and Murder in Nirvana are doing particularly well. Even my non-fiction, provocative book, Is God Really Necessary? is selling well.
Now that I'm in between novels, I've written a couple of reviews in the last month. My review of The Bear is posted under book reviews on my Lost Coast Review website (click here to read the review). I called it a "forthcoming classic," and a cross between Cormac McCarthy's The Road and Paulo Coelho's The Alchemist. It comes out on February 11, 2020 Ms. Never is a new novel by Colin Dodds, a gifted poet and novelist. I just finished reviewing it today. It's great—a mind-bending fantasy, sci-fi, literary novel. The review should be posted soon and I'll let you know where to find it. The novel comes out November 1, 2019.
That's all for a first entry. Tell your friends about my blog. You can comment if you like (unless the comments start to get out of hand).
To read my latest blog entry, click on the title below.

Previous Comments
No comments to show.